Above: Panorama of Pyramid Lake including the Tufa formations "Stone Mother" and the Pyramid that gives the lake it's name. Note the people on the beach between the formations for a scale of size.
Between a busy work and holiday schedule, and a bout of aggressive bronchitis, I'm late with some posts – this is one of them … and it's an experience worth sharing! First I want to thank the Pyramid Lake Paiute Tribe for giving us special permission to visit this special and sacred part of the Pyramid Lake shore to "test drive" our OpenROV 2.8's and fly Phantom 3 Professional aerial robots as well.
Back in October we were supposed to put the underwater robots the teachers had painstakingly assembled into the crystal clear water of Lake Tahoe to further test them and learn piloting skills. However, that day got "weathered out" by rain and high winds. The next time we could schedule a meet-up was December 3rd. It was a crisp and glorious day at Pyramid Lake. We met at the turn-off from the highway to the dirt road that leads out to the spot in the photo above. Besides the teachers having this opportunity, Trevor Galvin a math teacher at Pyramid Lake Middle and High School is part of our class and he brought along some current and past students and a few others' students showed up as well.
Here's how a local TV report explained the day:

The OpenROV's have a built-in camera and the water was much clearer than we expected: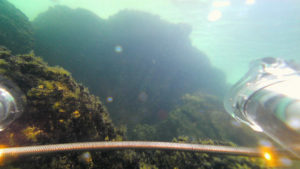 Algae covered tufa formations and lake bottom.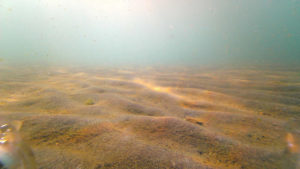 In the bright sunlight the computer screens were hard to see, so when one of the students reported that he could see something floating in the water straight ahead we told him to take pictures  so we could see it later. Turns out it was a large sacred Cui-ui fish: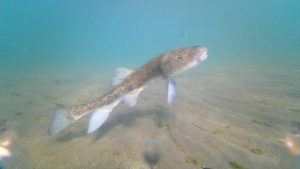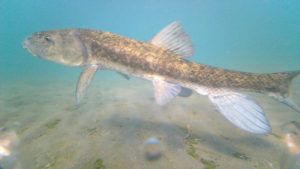 And next another student piloted 2.8 caught a Lahontan Cutthroat Trout: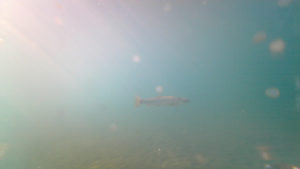 In the meantime Kirk Ellern was flying the Phantom 3 Professional drones the teachers had been trained in (and so were teachers and students) with the goal of photo/video archiving the experience and the area in aerial video. Kirk produced this video of the day, but more to come:

I'll be posting more about classroom visits I'm making with the teachers in the grant from their classrooms.
Here's a link to a Flickr album from the day.
Learning is messy!