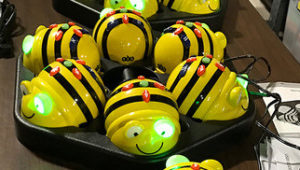 Awhile back I (well, the place where I work) was able to purchase 3 Bee-Bot "Hives." A hive is 6 Bee-bots, a charger plate and a yellow backpack to carry everything around. Once I had them I quickly put together a class for Pre-K – 2 teachers. The first class met about a month ago and our next class met last night.
Along with the teachers sharing out what their students have been up to (they are so excited!!!) and me sharing a few more resources on our class "Bee-Bot" wiki page, I asked them to try out a collaborative Bee-Bot activity I thought up. Now to be fair I don't know if others have thought of this before and done this already – so I don't want to take undue credit. I was thinking about how to make what you do already with Bee-Bots have an even stronger collaborative bent when I came up with this:
Pair 2 pairs of students and their shared Bee-Bots and have them work together to choreograph a "dance." Start on opposite sides of a table or facing each other on the floor. Start out having the Bee-Bots approach each other until they are face to face. Next keep adding to your program so the Bee-Bots go around each other, back and forth etc. They can keep adding commands to make their dance longer and more intricate.
Here is a video of one of the teachers "coding" her Bee-Bot with the program she and her partner designed:


Here is a clip of their Bee-Bot dance:


And here is a dance choreographed by another pair of teachers:


I'm looking forward to seeing their students taking on this challenge in the weeks ahead.
Learning is messy!