One of the awesome parts of my job is that I get to be part of some wondrous projects. Being part of the Eclipse Ballooning Project is one of those.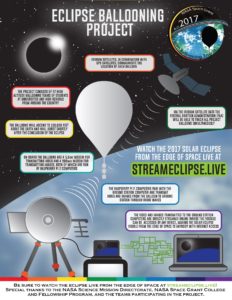 In case you haven't heard there will be a solar eclipse on August 21, 2017. It will be a total eclipse for some parts of the country – the gray line across the country below is where you'll want to be to see the total eclipse: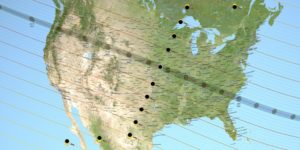 If you are lucky enough to be on that line of totality and you have a cloudless sky, the sky will go dark, stars will come out and the corona of the Sun will be visible. The rest of the country will see a partial eclipse of varying degrees based on location.
I'm part of Nevada's NASA Space Grant and the folks that I'll accompany (the real experts) are from the University of Nevada, Reno, the University of Nevada, Las Vegas, the Washoe County School District and Nevada's Northwest Regional Professional Development Program.
My team's plan at this point is to launch about 3 HAB balloons from eastern Idaho that should each reach altitudes of around 30,000 meters (100,000 feet). One will carry a payload that will stream live video … if we can get it working … during a test flight it only worked intermittently and then when a parachute failed it hit the ground hard and now is being pieced back together (messy learning?). The others will carry temperature, air pressure, humidity data loggers along with GoPro cameras and a 360 degree camera. All the balloons carry communication gear so we can follow, find and retrieve them. I'll post links to videos, photos and data after the launch.
We may live stream the launch, probably on Periscope if we have enough hands and solid internet. I'll tweet that out if it looks like it will happen. @bcrosby
We do have back-up locations in mind in Wyoming and Oregon if the weather doesn't cooperate.
Learning is messy!!