Presentations, Keynotes, Breakouts
Contact me: learningismessy@gmail.com  – For more information – I can also design keynotes, presentations and breakouts to fit your requirements.
.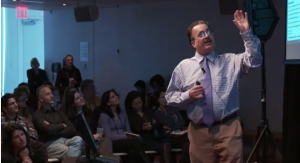 STEM – What Does That Really Look Like in the Classroom?
STEM is the new buzzword, but what does a STEM classroom really look like? Participants in this session will enter an elementary classroom via video clips and examples of award winning online student projects to learn how an integrated STEM program facilitates learning. Attendees will see how students are motivated to do deep reading, writing, speaking and math because they are doing exciting, inquiry based work. Collaboration is emphasized using free and mostly free web tools.
Making Connections To The Curriculum and the World – Connected Learning
Most state's standards and the Common Core demand that our students learn to connect and collaborate globally. How do you make those connections with teachers, students and experts? And how do you do so safely?  We'll see how students are motivated to do deep reading, writing, speaking and math because they are doing compelling inquiry based work. Collaboration is emphasized using blogs, wiki pages, video-conferencing and more. Students brainstorm, write and edit creative stories, as well as plan, design, engineer and perform experiments and explorations not only in their classroom, but with collaborators thousands of miles away.
STEM Is a Culture, Not a Time of Day or Day of the Week
More STEM programs and initiatives are being implemented globally every day. Too often those implementations reflect a misinterpretation of what STEM learning is. STEM learning is not a period of the day or, "What we do Wednesday afternoons." Quality STEM learning is woven throughout the curriculum to varying degrees on a consistent basis. Join me in an examination of what "doing STEM" can and should look like in our schools.
Why STEM? Hands-On, Minds-On, Creativity-On
STEM (Science,Technology, Engineering and Math)  – So why this current push for STEM? What is STEM really, and why  is it an important, transformational and  powerful approach to learning? We'll explore and discuss examples from award-winning STEM classroom projects to bring clarity about STEM learning.
Professional Profile
Brian Crosby, an upper elementary teacher for over  30 years, now facilitates STEM (Science, Technology, Engineering and Math) education for teachers and administrators in six counties in northern Nevada. Coming from a background in outdoor education and educational technology, Brian fused his "at risk" students use of technology with field trips, art, hands-on activities and a problem-based approach, to build their schema of the world while at once connecting them to it.
Brian's students are acclaimed for the "community service" projects they accomplish and he espouses, believing that if children are seen as the valuable public resource they are, while they do important work and learning, society will be more willing to invest in them. Building a wiki web site to leverage the learning at a local animal park, developing an advertising campaign for a non-profit that recycles bicycles, producing award winning public service announcements about diversity and bullying, including a classmate with leukemia utilizing video-conferencing and then producing an award winning video teaching others how to follow their lead, are just some examples.
Brian has been interviewed about innovative teaching and learning by Brian Williams of NBC News, the New York Times and many other national and local media outlets. He has co-authored a book about connected learning, "Making Connections With Blogging" and has mentored educators and presented about connected and STEM learning in person as far away as China, and virtually around the globe.
Brian believes strongly that providing exciting and motivating hands-on, minds-on experiences, although crucial, is not good enough for our students. They require the time to "Go Deep" and leverage their learning through all aspects of the curriculum including integrated, rigorous language arts, math, art and social studies work.
Author:
Co-Author, "Making Connections With Blogging" – "Authentic Learning for Today's Classrooms" by Lisa Parisi and Brian Crosby
Video conferencing, web 2.0 apps help distance learners feel included, eSchool News, March 25, 2008, by Brian Crosby
Co-Author: " Making across the country feel like across the classroom," Google Docs Blog, May 2008
Articles About:
Educational Leadership, A Digital Bridge to Homebound Students, Pages 92-93, December 2009/ January 2010 / Volume 64 / Number 4 by William M. Ferriter
Reno Magazine, Cover Story, The Visionaries: Interactive Education, Pages 56, 57 September 2008, by Scott Mortimore
Show and Tell, T.H.E Journal, May 2008, by Matt Bolch
Mind The Gap, NEA Today Magazine, March 2008, by Cindy Long
Promethean Planet "Teacher Feature" Teacher of the Month.
Teachers At Work, Energize Your Classroom, Visual Thesaurus, September 2006,
Awards:
The 2008 SIGTel Online Learning Award
Apple iLife Award –  Video: Don't Laugh At Me
Lumiere Film Festival Winner
Reno Film Festival Winner
WCTA Distinguished Teacher