I announced in my previous post about my upcoming involvement in a STEAM (Science, Technology, Engineering, ART and Math) day at the Nevada Museum of Art. I was trying out a new idea to integrate art into what before had been strictly a STEM (Science, Technology, Engineering and Math) inquiry lesson utilizing cantilever spans (the lesson is explained here).
The original lesson was built on the work of Ken Wesson who gave Lou Loftin (my frequent collaborator in PD delivery)  the original idea of using cantilever construction as an inquiry piece. He encouraged us to "go with it" and we have. We report back to Ken whenever we see him about how awesome the cantilever spans experience is. He usually just beams and encourages us to keep promoting it and innovating with it. Ken, by the way, is a great speaker, I've seen several of his keynotes and he brings the house down!
My idea to add the art component to the lesson was this: We started out following the original introductory lesson, pass out the materials and challenge the participants to build as long a span with those materials as possible (in groups of 2 to 3) … the difference was on this day that I only gave them 5 minutes to build. I mainly wanted to give them some experience with the materials and building a span AND to have them experience the STEM version even a tiny bit. We debriefed their experiences, I described the multiple ways to continue and leverage the lesson (which can go for days or weeks BTW) and then I changed the challenge … the focus:
"This time when you build your cantilever span your total focus is to be on the aesthetics of the span. It doesn't matter how far out from the edge of the table it reaches, as long as it does, …make it beautiful, creative … GO!
I was pretty sure this was going to elicit some creative structures … I way under estimated … the designs, even in the limited time we had (15-20 minutes) were fantastic! Here are just a few examples: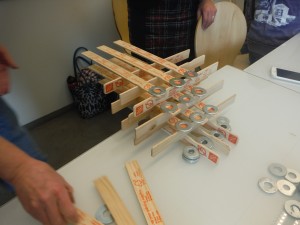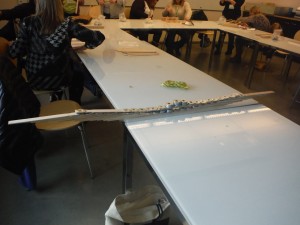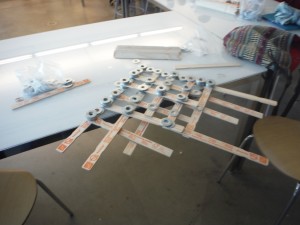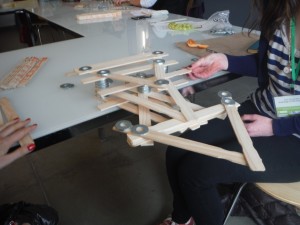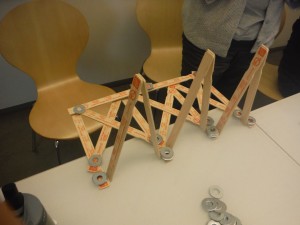 See what I mean?  There are just too many to post … but here is a link to all of them on Flickr.
I had four groups of educators cycle through the 50 minute lesson during the day. When I debriefed them each group spoke about how they loved the creativity aspect. We would always make time for a "gallery walk" during each session and many noted how they were so focused on what they were creating that they didn't even notice what those all around them were doing until we did the walk. Many took photos and asked questions and conversations began about the process … unfortunately we always had to cut those conversations short. We did discuss the writing, math, research and other integrations and connections … including collaborating with classrooms anywhere in the world, that should happen along with the STEM or STEAM version of this or any lesson.
If you've already experienced cantilevers with your students I fervently suggest going back and having them experience this "art" connection variation. If you've never done it I suggest having your students build long spans for awhile (days or weeks) and then after they have experience with the materials try the aesthetics piece (but certainly do it any way you and they want … just a suggestion) I can't wait to get into some classrooms and try this with students! Reminder: The cantilevers lesson is appropriate for ALL students Pre-K – 12. When I do get into classrooms I'll report back! If you beat me to it, please share your experience!!
Learning is messy!