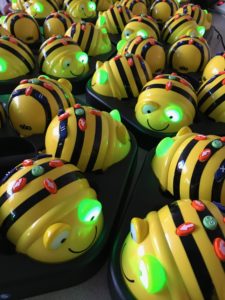 Last spring I was able to purchase, thanks to some unspent funding from a grant, 3 Bee-Bot "Hives" – they are about $600 each – each "hive" includes 6 Bee-Bots, a charging plate and a yellow backpack for transporting them. With time short before the school year ran out I taught/facilitated a quick class with 6 teachers from 3 schools to gauge teacher and student interest and learning using robots in the primary grades.
The idea was to facilitate teachers in their use and then loan a hive to each school – the participating teachers shared the hives at their site. Teachers and their students loved them and didn't want to give them up. We even came up with a "STEAM" activity that I shared here.
With that success I was able to get funding for an additional 6 "Hives" this fall. Last Wednesday we started a year long cadre of Kindergarten to 2nd grade teachers (I couldn't get any Pre-K teachers to join). There are about 27 teachers in the cadre from 9 schools and a local children's museum.
I included the teachers from last spring, and although I feared what they might do if I didn't include them, the reality is they are all excellent consultants and have already added much to the class.
We learned how Bee-Bots work and saw a few short videos showing them in action. Next teachers were given some time to get "messy" with them. Lots of button pushing, discussion and laughter ensued.
Then I passed out large sheets of foam board and let them work in school groups to design straw mazes so they could experience firsthand what their students would be doing (but you can use blocks and lots of other materials you might already have in your classroom).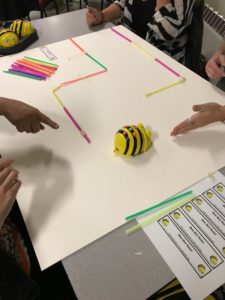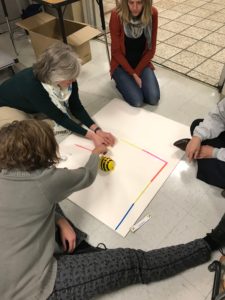 I also shared a Bee-Bot wiki resource we started last spring and will add to as the year goes on. I was able to include a yellow digital camera in each hive (the color match is awesome). The cameras are NOT part of what comes with a hive, but I wanted a way to collect and archive data and ideas and the cameras were available.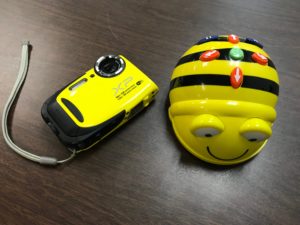 I'll also set up a Flickr account for this class, like we had last spring. We'll collect data on how long a program students write without prompting to see their progress during the year.
The teachers were sent out with their hives to get started and set-up how they want to manage and utilize the Bee-Bots in their classrooms – the teachers from the spring cadre shared some of their experiences which should help. We meet again next week. More later.
Learning is messy!