3 weeks ago we participated in the Nevada Tahoe Teacher STEM Institute. Over 50 K – 9 teachers from all over Nevada came to the Tahoe Environmental Research Center (TERC) at Sierra Nevada College in Incline Village, Lake Tahoe, for a week of STEM learning. The funding was based on a Math/ Science Partnership Grant we wrote and received through the Nevada Department of Education. The event was put on by the Nevada's Northwest Regional Professional Development Program, Washoe County School District, TERC, along with help and support from others mentioned in this post. BELOW: We started off with a group photo.
Sunday evening we started them off learning the science of tie-dye (covalent bonds and all) and made the case for STEM learning. We also set up a STEM notebook for each teacher as well as a digital notebook (blog).
The next day started at 6:30 am for breakfast and a day of Project WET, GEMS (Great Explorations in Math and Science), background in the Next Generation Science Standards (NGSS), a trip on the TERC research vessel on Lake Tahoe, stream studies and training on and set-up of blogs, wikis and a Flickr photo account – all of which we added to all week.
GEMS – Great Explorations in Math and Science
Out on the TERC research vessel
ABOVE: Field Lab Director Brant Allen explains the use of a Secchi disk in reporting out the clarity of the water in Lake Tahoe. The clarity has degraded from over 100 feet to about 70 feet since the 1960's. BELOW: Secchi disk being lowered into the lake.
A couple of past visitors to the TERC research vessel you might recognize: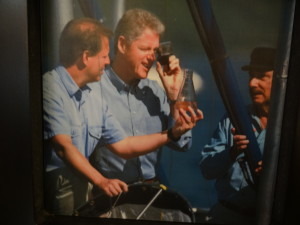 BELOW: Stream monitoring and benthics.
During following days all teachers learned geology, aquatic habitats, space science, ocean science, food webs, the ethics of teaching outdoors – and the middle and high school teachers also worked in the Soluble Reactive Phosphorous Lab solving a mystery about pollution sources ala CSI. The grant provided experts from GEMS, TERC the USGS and others to teach classes and lead labs.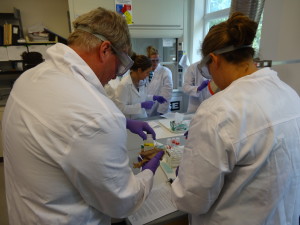 In the Soluble Reactive Phosphorous Lab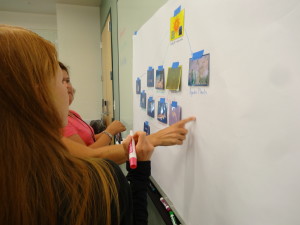 BELOW:Food webs
Ladybugs!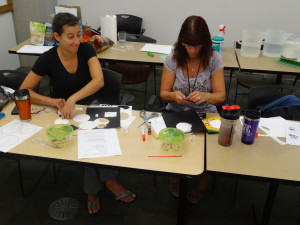 Participants loved the "Digital Sandbox"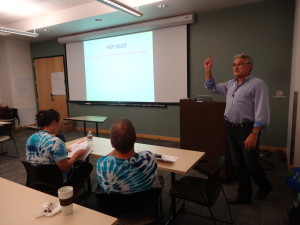 Geoff Schladow – Director of the Tahoe Environmental Research Center explains the "State of the Lake."
We also got to visit the lake at sunset: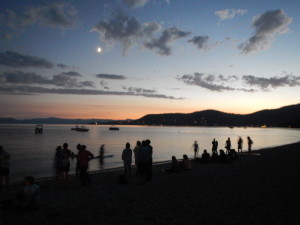 Besides the more than 40 hours of training, participating teachers each received lessons, supplies and other resources to take back to their classrooms and students so they can use what they learned right away. In addition teachers will have monthly follow-up sessions to share their progress, ask questions, share resources they have developed and make connections through the classroom blogs, wikis and Flickr accounts they set-up. It was an intense and rewarding week of learning and sharing in one of the most beautiful locations on Earth!
Learning is messy!