Update: 4/29/07
Find a link to the podcast below (my first ever podcast btw).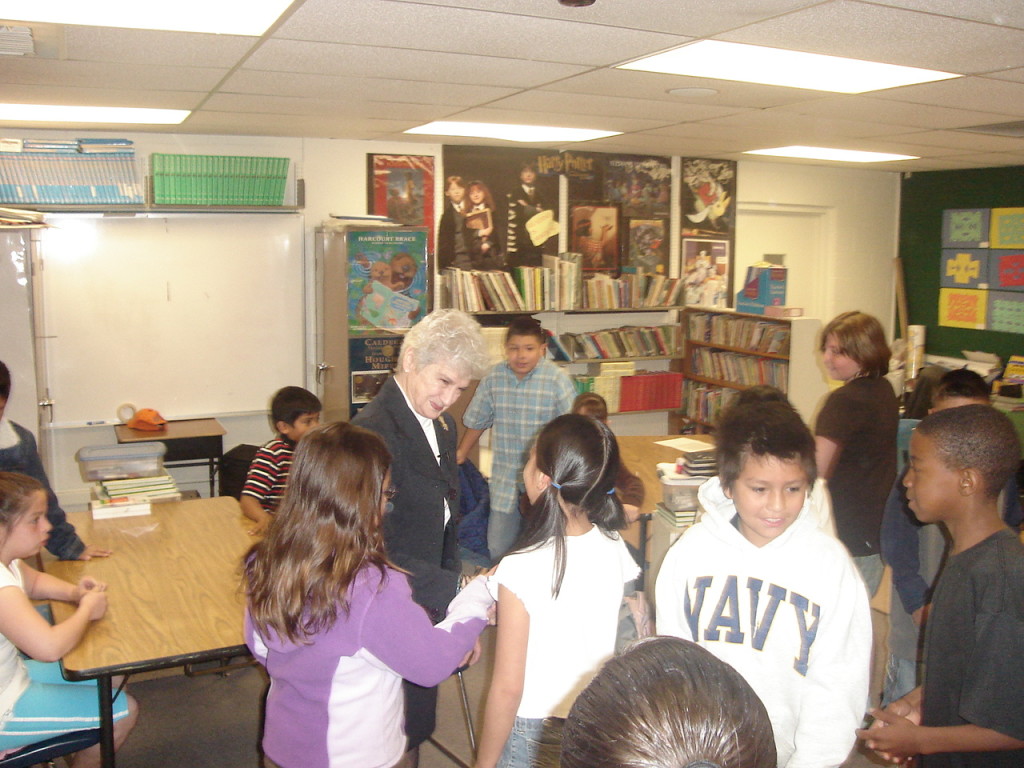 Friday, Grace Corrigan "graced" our classroom with a visit, and that might seem like just a cute play-on-words, but if you had been there you would agree. Grace is Christa McAuliffe's Mom (Teacher in Space tragically lost on the Space Shuttle Challenger debacle). I was told to expect her about fifteen minutes after school started and she appeared about fifteen minutes before school started, so much for my, "We'll get the students in and settled first" plan. But it didn't matter. They came in and found their seats, some said hello – I had explained to them the day before that because we were Skyping her visit and trying to record it and video tape it, that I would be busy and they would have to monitor themselves and each other – they did a great job!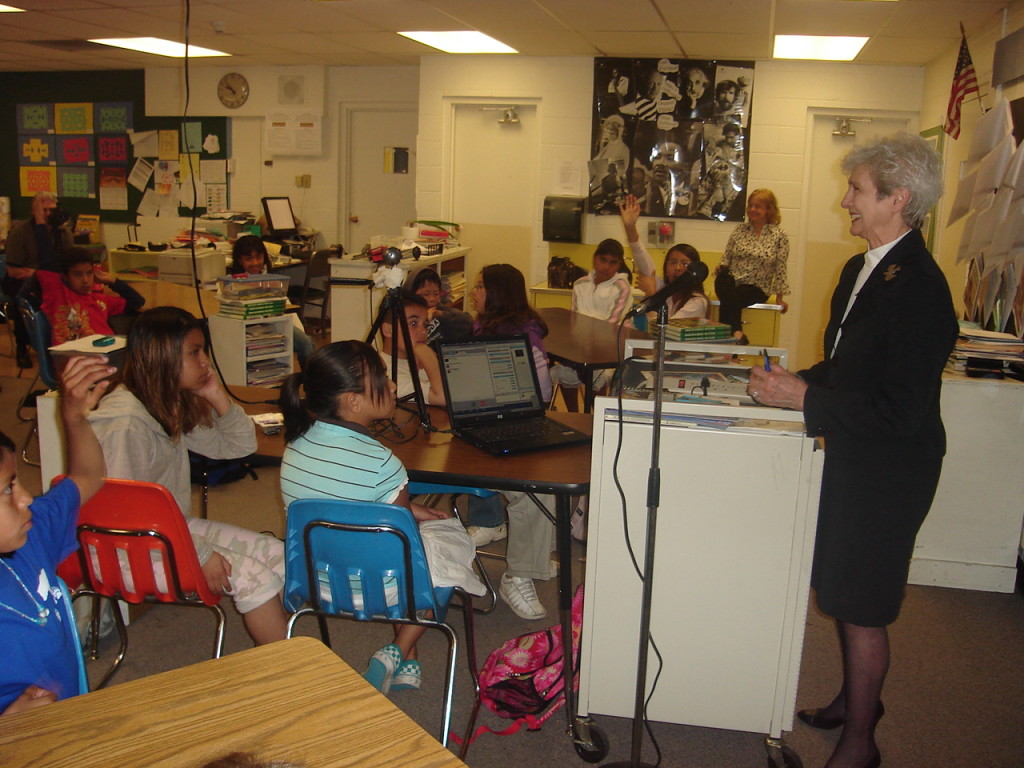 Lee Baber and I (mainly Lee) got the Skype connection to work – we had planned on meeting over Skype the day before to check the connection and discuss what to expect etc. –  but both of us were so busy that that never happened. We did manage to connect about an hour before, after I managed to interrupt another Skype session her students were doing.
We had a bit of a tentative start, I intro-ed from my end and then one of Lee's students did an intro for the podcast they were doing – and Grace was off – well for a few minutes anyhow. Right as Grace was engaging the students, our school's morning announcements began. But that didn't stop Grace, she just kept on going right through – today's lunch menu, Thought-for-the-Day, and a scolding for leaving too much trash outside after, "outside lunch" the day before. I noticed at this point that Lee had sent me a text message on Skype, "Brian, we seem to be picking up some kind of noise; what is that? "Just morning announcements," I texted back. "Oh," replied Lee, who I'm sure was really impressed at this point at the professional manner in which the presentation was going. And that impression was reinforced a few minutes later when the office called me over the loudspeaker to tell me to do my attendance (even though it was done). You have to understand that we complain all the time how loud things come across our PA system, but there is no way to adjust it or turn it off.
Anyhow, undeterred Grace continued – she showed them a short film about Christa and continued on her theme of  "Reach For The Stars!" She took questions for about 25 minutes, took a photo with the class, shook hands with any student that wanted to, autographed a picture of Christa for us, and was gone. I scanned the picture and printed out a color copy for every student in my class. 18 of my students were able to ask her a question, and at least half that number of the YouthBridges students asked a question too.
I want to thank Grace Corrigan, Lee Baber and her students and Paul McFarlane a high school English teacher that started and runs the Lumiere Film Festival – and he teaches our school district's Digital Video Class with me – he chose my class as the one for Grace to visit.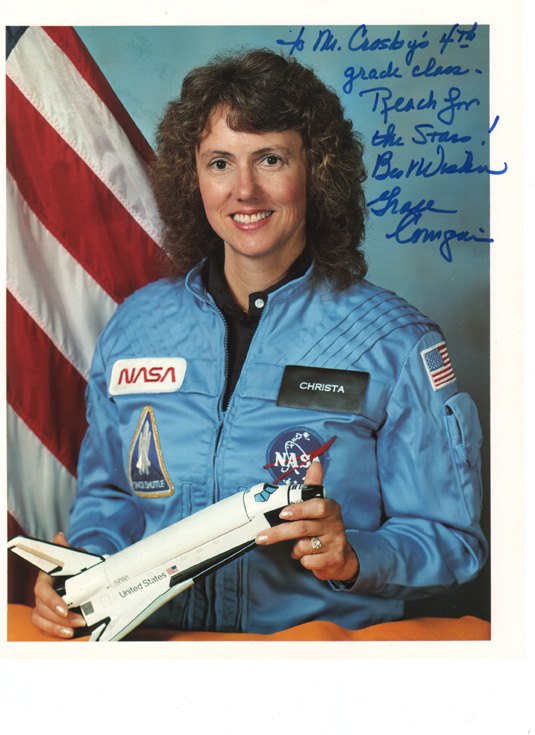 My class began blog posts about the experience and their field trip the day before to Animal Ark. Lee emailed me that she thinks the recording went well – thanks to her and her students. All-in-all a super experience for all involved. As soon as the podcast is edited I'll put a link to it here. Once I get a chance to edit the video, and if it is any good I'll post it. I just wish Celest could have been a part – a few students mentioned that too.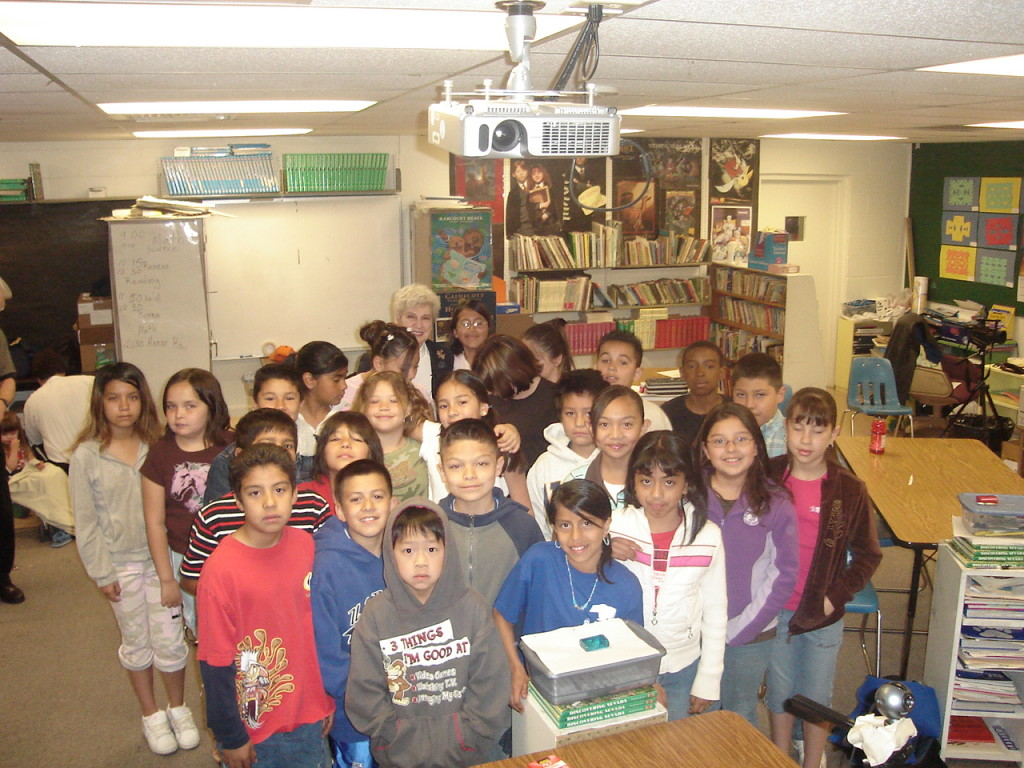 Podcast – Click here for podcast of Grace's visit.
Recorded 4/27/07 Length: 31:51