Earlier this year I agreed to lead two grant funded STEM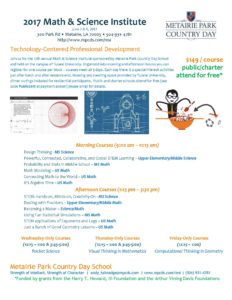 professional development courses for teachers sponsored by Metairie Park Country Day School, June 7th, 8th and 9th, 2017. The courses will be held at Tulane University in New Orleans as part of the 2017 Math & Science Institute. AND NOTE THIS – You just have to get there – tuition is FREE! (note the flyer to the right for more information). Note: private school teachers have to pay $149 per course.
Each course is about 6 hours long spread over the 3 days (2 hours per day, per course). Here's a page with all the course descriptions.
I'll be teaching 2 courses: "Powerful, Connected, Collaborative and Global STEM Learning" and "STEM: Hands-on, Minds-on, Creativity-on" –
From the online course description:
STEM: Hands-On, Minds-On, Creativity-On is a six-hour course designed to help teachers integrate powerful STEM learning with a focus on engaging, hands-on engineering lessons. Participants will not only experience the lessons firsthand, but also how to collect and analyze the rich data the lessons produce. Strong connections to science, language arts, technology, art, the Next Generation Science Standards and three dimensional learning will be included. Most lesson activities utilize easily obtained materials.
Powerful, Connected, Collaborative, Global, STEM Learning is a six-hour course designed to allow you to see how the power of STEM inquiry projects are leveraged when students are connected and collaborate globally.
There are several Common Core State Standards that require students to utilize technology to collaborate starting in elementary school. This course will provide hands-on engineering lessons and phenomena – coupled with free or cheap collaborative online tools that promote sharing and analyzing data, explanations, global awareness and much more. Participants and their students will learn to collaborate and share through powerful writing, oral language, photography, math, art and other media. Online safety and ethics will be featured.
Check out the 2017 Math & Science Institute home page to see all the courses being offered.
Hope to see you there!
Learning is messy!